About Us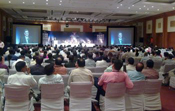 CORPORATE EVENTS MANAGEMENT ASSOCIATES (CEMA)is proud to be one of the leading Events Management Company in India in the business of Conferences, Seminars, MICE, Travel & Exhibition. CEMA was started with the aim of Sharing knowledge through knowledge forums but was later diversified into Travel & Exhibition by seeing the demand from various corporate houses. CEMA specializes in Conferences & Seminars targeting across Industry Verticals ranging from Technical to manufacturing to pharmaceuticals to Finance. Having made her presence Pan India & in all the Industry Verticals, CEMA extended her profile to Exhibition & Travel portfolio. CEMA also expand now in promoting India's foreign trade at international conferences, seminars and trade fairs worldwide along with assisting overseas trade delegations to seek business opportunities within India.
CEMA has an extensive database and a wide range of products and services. Our established infrastructure, consist of professional and well experienced staff to provide the key to serve our clients effectively. It allows us to focus our efforts on achieving complete customer satisfaction.
CEMA is in itself a full Event Management Company which designs & organize conferences along with MICE & Travel for the corporate. CEMA is backed by very experienced professionals from the Industry. All the divisions are headed by Industry experts with more than 2 decades of experience.
TEAM Our team of highly educated and dedicated personnel believe that generating interest by, discussion and debate through fresh ideas and concepts provides a better platform and environment for business development.
We understand that we operate in a business sector that provides the best of its services to their clients. Our disciplined recruitment policy ensures that matured professionals with informed minds, respond to our client's needs. Our clients look at us as extensions of their organizations, bringing expertise and objective solutions to meet various needs and problems.